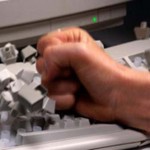 We'd be willing to bet that database software generates the highest profanity-to-mouseclicks ratio of any category of personal computer software. Database concepts in general are fairly complicated, and the powerful software that lets users create and manage databases can add layers of operational complexity.
Any news about improvements in usability is good news, but Microsoft tripped when it tried to explain that ready-made templates in its Access database software help hide the complexity. The introductory screen for an online Access training course begins with this assertion: "If you think databases are hard to understand, you're not up to date."
In other words, "The reason you're stupid is that you insist on wasting your time worrying about your actual job, life, family, and so on, rather than following the brilliant innovations being made by database software designers." Or more simply, "If you're dumb, it's your fault."
We exaggerate the effects here, but not by much. Blaming the customer for not understanding the product is bad enough, but Microsoft takes the extra step of implying that it is the customer's responsibility to keep up with what the company is doing.
Rather than insulting the customer and dredging up negative associations about database software, the promotional copy could've said something along the lines of "New ready-made templates make it easy to harness the power of Microsoft Access." This puts the burden of complexity on the product, where it belongs, but it also moves the conversation in a positive direction by talking about solutions to a problem. And nowhere does it criticize the customer for not being smart or up to date.
On the plus side, Microsoft does provide us with a great example of a situation in which using the word you does not equate to demonstrating the "you" attitude.