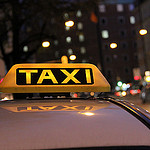 "I try to equate this illegal operation of [. . .] as a terroristic act like ISIS invading the Middle East" he said, "It is exactly the same menace."
Whoa. That must be one horrible outfit the speaker is referring to, to warrant comparison with a terrorist group so brutal that al-Qaeda cut ties with it.
The speaker is Alex Friedman, general manager of two Philadelphia taxi companies and president of the Pennsylvania Taxi Association, and he said this at a board meeting of the Philadelphia Parking Authority. And the diabolical operation in question? uberX, the ride-sharing service that is winning fans among consumers looking for an alternative to conventional taxi service—and winning enemies among taxi companies for presenting a form of competition they consider unfair and even illegal in some instances. (The uberX operation Friedman refers to recently began transporting passengers in Philly, even though the Parking Authority considers it an illegal operation and threatens to fine Uber drivers and impound their cars.)
Legal issues aside, referring to any business operation as a terrorist organization is an absurd use of metaphor. Moreover, it is—or at least should be—an ineffective, credibility-destroying communication strategy to use with any rational audience.
If you need to give your students an example of metaphorical speech and hyperbole gone horribly wrong, chances are you'll never find a better/worse example than this.
Photo credit: blu-news.org