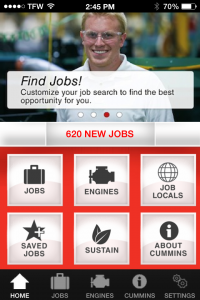 The mobile business communication revolution is changing how employers recruit new talent—and how job candidates can and should look for opportunities.
Mobile Recruiting Is on the Rise
Many companies have optimized their careers websites for mobile access, and some have even developed mobile apps that offer everything from background information on what it's like to work there to application forms that students can fill out right from their phones.
However, students need to be advised not to abandon a job application or an investigation into a potential employer just because the firm doesn't have a careers app or a mobile-friendly job site. Creating apps and mobile-friendly websites obviously takes time and money, and many employers are still in the process of optimizing their online career materials for mobile devices. In a recent survey, 40 percent of mobile users said they would abandon a nonmobile job application—a distressingly high number in a slow job market.
Integrating Mobile into a Job-Search Strategy
In addition to researching companies and applying for openings, integrating a mobile device into the job search strategy can help with networking and staying on top of active job applications. For instance, some companies don't wait long after extending an offer; if they don't hear back from the top candidate quickly, they'll move on to their next choice. By staying plugged in via their mobile devices, students won't let any opportunities pass them by.
Encourage students to think of ways to use their mobile device to enhance their personal brands and online portfolios. If they want to work in retail, for example, they could take photos of particularly good or particularly bad merchandising displays and post them with thoughtful and professional commentary on their social media accounts. Employers doing background research on them will see these posts and recognize candidates who are invested in their careers and the industry as a whole. Many of the tools students can use to build their personal brands are available as mobile apps, including blogging platforms, Twitter, Facebook, and LinkedIn.
In addition, dozens of apps are available to help with various aspects of the job search. Many job boards have mobile apps, and résumé-creation apps let students quickly modify a résumé when they come across a good opportunity. Business-card scanning apps make it easy to keep digital copies of business cards, so they'll never lose important contact information. Note-taking apps are a great way to plan for interviews and record post-interview notes. A phone's scheduling capability can help students stay on top of interview schedules, application deadlines, and follow-up communications. Audio and video recording features or a practice-interview app help students polish their interviewing skills. And if an employer wants to interview a candidate via Cisco Webex or another online meeting system, those apps are available for phones and tablets as well.
All those mobile devices might have been a bane in the classroom from time to time, but they are powerful tools to help students launch successful business careers.
Learn More About the Mobile Revolution in Business Communication
These posts offer additional insights into the exciting changes that mobile is bringing to business communication—and the importance of covering mobile concepts and skills in the business communication course:
Your Students Are Racing Toward a Mobile Future, a downloadable PDF that includes a sample of the mobile coverage in our latest editions and information on requesting review copies.
The Mobile Revolution: The Parallels with Social Media
The Rapid Rise of Mobile Business Communication
How Mobile Technologies Are Changing Business Communication
How Is the Mobile Revolution Affecting Your Business Communication Course?
Our online magazine, How the Mobile Revolution Is Changing Business Communication, offers a variety of original and curated pieces on mobile usage in business communication.

Sources: "Top 25 Must-Have iPhone Apps for Your Job Search," Career Rocketeer, accessed 6 January 2015, http://careerrocketeer.com; David Cohen, "Social Recruiting Goes Mobile," AllFacebook blog, 23 December 2013, http://allfacebook.com; "The Rise of Mobile Job Search," Come Recommended blog, 12 June 2013, http://comerecommended.com.