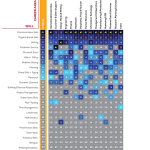 As we embark on another fall term, it's always good to remind ourselves and our students just how valuable the skills learned in the business communication course truly are. Students must put a lot of time and energy into this course in order to succeed, so be sure to let them know they're developing skills that will serve them for a lifetime.
Burning Glass, a company that uses advanced job-market analytics to study the qualifications employers want, confirmed this with an in-depth study across multiple professions.
In every profession except two, overall communication skills are the most-requested qualification (and in those two professions, it ranked number 2). In addition, writing ranks number 3. (You can click the thumbnail to see the ranking chart or click here for a full-size graphic and an accompanying article.)
Burning Glass offers a comprehensive report on these findings, and one paragraph from the report really jumped out at us:
Writing, communication skills, and organizational skills are scarce everywhere. These skills are in demand across nearly every occupation—and in nearly every occupation they're being requested far more than you'd expect based on standard job profiles. Even fields like IT and Engineering want people who can write.
(The Human Factor: The Hard Time Employers Have Finding Soft Skills, Burning Glass Technologies, 2015.)
In other words, communication skills can give all graduates a significant competitive advantage in the job market. As part of their studies, business students learn to recognize the value of competitive strengths, and the good news here is they can apply this lesson to themselves and become more valuable and more successful professionals. (For even more evidence of valuable this course is, this post outlines 27 specific ways the business communication course will help them in their academic, personal, and professional lives.)
With this confirmation of our vital shared mission, we wish you and your students a successful fall term! As always, please don't hesitate to get in touch if you'd like to discuss any aspect of business communication practices or pedagogy.