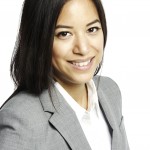 Most students preparing to enter or reenter the job market have probably heard the advice to develop a personal brand but might not know how to proceed. Here are five steps that can make the task feel easier and more authentic.
Step 1: Don't Call It Personal Branding If You Don't Care for the Term
Some people object to the term personal branding, with it associations of product marketing, the implied need to "get out there and promote yourself," and perhaps the unseemly idea of reducing something as complex as a professional persona to an advertising slogan. Students just starting their careers can also wonder how to craft a meaningful brand when they don't have any relevant work experience.
Moreover, one can argue that the term is most directly applicable to professional speakers, authors, consultants, entrepreneurs, and others who must promote themselves in the public marketplace. People who aspire to professional or managerial positions in a corporate structure may rightly wonder why they need to "brand" themselves at all.
However, the underlying concept of branding as a promise applies to everyone, no matter the career stage or trajectory. A brand is fundamentally a promise to deliver on a specific set of values. For everyone in business, that promise is critical, whether it extends to a million people in the online audience for a TED talk or a half-dozen people inside a small company. And even students with no relevant professional experience have personal attributes and their educational qualifications as the foundations of their brand.
As an alternative to a personal brand, you can invite students to think of their professional promise. Ask them to frame it this way: When people hear your name, what do you want them to think about you and your qualifications?
Step 2: Write the "Story of You"
When it's time to write or update a résumé, we encourage students to step back and think about where they've been in their lives and their careers and where they'd like to go. Helpful questions include Do you like the path you're on, or is it time for a change? Are you focused on a particular field, or do you need some time to explore?
This is also a great planning tool for developing a personal brand. In our texts we refer to this exercise as writing the "story of you," and it's divided into three sections:
Where I have been—the experiences from my past that give me insight into where I would like to go in the future
Where I am now—where I currently stand in terms of education and career and what I know about myself (including knowledge and skills, personal attributes, and professional interests)
Where I want to be—the career progress and experiences I want to have, areas I want to explore, and goals I want to achieve
Students should think in terms of an image or a theme they'd like to project. Am I academically gifted? An effective leader? A well-rounded professional with wide-ranging talents? A creative problem solver? A technical wizard?
Writing this story arc is a valuable planning exercise that helps students think about where they want to go in their careers. In essence, they are clarifying who they are professionally and defining a future version of themselves—and these are the foundations of the personal brand/professional promise. Another important benefit is that it makes the personal branding effort authentic, because it is based on a student's individual interests and passions.
Step 3: Construct Your Brand Pyramid
With a professional story arc as a guide, the next step is construct a brand pyramid that has all the relevant support points needed to build a personal brand message.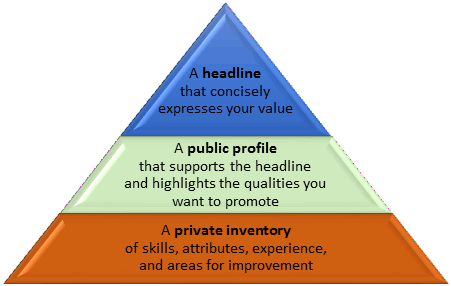 First, compile a private inventory of skills, attributes, experience, and areas for improvement. This should be a positive but realistic assessment of what you have to offer now and a "to-grow" list of areas where you want to develop or improve. Obviously, this inventory isn't for public consumption.
Second, select the appropriate materials from your inventory to develop a public profile that highlights the qualities you want to promote. As Step 5 explains, this profile can take on a variety of forms for different communication platforms.
Third, distill your professional promise down to a single headline, also known as a tagline or elevator pitch. The headline should be a statement of compelling value, not a generic job title. Instead of "I'm a social media specialist," one might say "I help small companies get the same reach on social media as giant corporations."
Of course, many students won't have the relevant job experience to say something like this, and to a large extent, their personal brands will be an expression of potential. The key is to make sure it's realistic and suggests a logical connection between the present and the future. Someone pursuing an MBA in finance can reasonably claim to have a strong toolset for financial analysis, but someone with no corporate work experience can't claim to be a bold, high-impact executive.
Here's a good example: "I am a data science major ready to make numbers come alive through leading-edge techniques in data mining, visualization, and AI."
Note that both the public profile and the headline should use relevant keywords from target job descriptions.
Step 4: Reduce or Eliminate Factors That Could Damage Your Brand
Every brand, no matter how popular and powerful, can be damaged by negative perceptions or performance issues. After identifying all the positives, students should do an objective analysis of areas that could undermine their career building efforts. For example, someone who tends to overpromise and underdeliver is going to develop a reputation for unreliability that could outweigh whatever positive qualities he or she can bring to the job.
Other concerns might be related to specific skills that a person needs to develop in order to progress toward his or her career goals.
Step 5: Put Your Brand/Promise to Work
With all this information in hand, it's time to put the branding message to work.
The public profile could be expressed in a variety of ways—as a conventional résumé, the summary section on LinkedIn, as an infographic résumé, or the introductory section of a personal webpage or e-portfolio.
The headline can be adapted and used in multiple ways as well, including the headline field on LinkedIn, the qualifications summary on a résumé, a Twitter profile, and as a ready answer to the common interview question "So, tell me about yourself."
Naturally, the brand message should be consistent across all the platforms and conversations where it used. For instance, an employer reviewing a résumé is likely to visit the candidate's LinkedIn profile as well, so it's important that the messages match.
Lastly, the branding pyramid should be a "living document" that is updated whenever a person acquires new skills or job experiences or wants to move in a different direction. In addition, periodically revisiting the "story of you" can be a great way to recapture the passion that initially launched you down your career path.
Photo: Charles Knox/Shutterstock