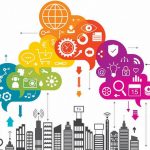 This is the fifth post in a series about technologies that are shaping the future of communication. We've been following technologies that cover an interesting array of possibilities, from enhancing existing communication modes to replacing at least one of the humans in a conversation to assisting people who have a variety of motor, vision, and cognitive impairments. They are all across the adoption curve, from technologies that are already approaching mainstream usage (such as bots and gamification) to a few that are closer to the sci-fi end of things (such as holograms and telepathic communication). Many of these systems rely on artificial intelligence, which is reshaping business communication in some profound ways. All of them present interesting discussion topics for business communication, because they get to the heart of matter, which is trying to exchange information and meaning in the most effective and efficient ways possible. To offer students a peek into the future, we've started covering these innovations in our business communication texts, beginning with the 14th Edition of Business Communication Today (published January 2017) and the 8th Edition of Business Communication Essentials (published January 2018).
The Internet of Things (IoT) refers to the several billion devices now connected to the Internet and the networking potential of having all these gadgets communicate with each other, feed data into powerful analysis and control algorithms, and interact with people and the physical environment. These "things" range from simple sensors that measure temperature, location, and other parameters all the way up to robots and other complex systems. People and animals with Internet-capable sensors (such as implanted chips) or devices also qualify as things in this model.
Imagine you walk into a department store and your mobile phone automatically gives you directions to the aisle where you could find the clothing styles you have recently been browsing online or discussing in social media. When you reach that aisle, a coupon pops up on your phone with a discount on the specific items you're considering. When you pull a garment off the rack, the store's customer database checks other purchases you've made and suggests which items you already own that coordinate with this piece. If you could use an accessory to complete the outfit, the store's computers can tell your phone just where to take you. And if you need more advice, you can text or talk—and possibly not know whether you're conversing with a store employee or an automated chat algorithm.
Now imagine this simple concept expanded and applied in various ways to industrial facilities, agriculture, transportation, buildings, health care, and other systems. By relying on networked IoT devices for such communication functions as observing, measuring, and reporting, these enhanced systems can supplement or replace communication flows that were previously carried out by human participants. IoT raises some serious concerns about security and privacy, but it's already a multitrillion-dollar industry that doesn't show any signs of slowing down.
IoT's impact on business communication will be fascinating to watch over the next few years, particularly as the technology gets linked with automated writing and other AI tools. Ideally, it will take over some routine communication tasks and give businesspeople more time for higher-level communication and strategizing.
Class activity idea: Have students research the current state of IoT innovation to identify one way in which the technology has the potential to change business communication practices, such as automated data collection and status reporting. Do they agree with the predictions the experts make? Why or why not?
Sources: Steve Ranger, "What Is the IoT? Everything You Need to Know About the Internet of Things Right Now," ZDNet, 19 January 2018, www.xdnet.com; Bernard Marr, "The Internet of Things (IOT) Will Be Massive In 2018: Here Are the 4 Predictions From IBM," Forbes, 4 January 2018, www.forbes.com.
Image: laboratoriolinux on VisualHunt.com/ CC BY-NC-SA