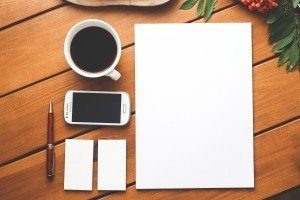 Students who haven't yet engaged in a professional-grade job search might be surprised by how much work is involved and how long the process can take. Starting late or diving in without a plan can make this challenging project even more hectic. In contrast, approaching it thoughtfully can reduce stress and smooth out bumps along the way.
Share these tips with your students to help make the process easier and more efficient:
Get organized. Your job search could last many months and involve multiple contacts with dozens of companies. You need to keep all the details straight to ensure that you don't miss opportunities or make mistakes, such as losing someone's email address, forgetting an appointment, or overlooking an application deadline. If you don't have a favorite already, explore some of the many to-do list apps now available.
Block out a schedule that gives you plenty of time. Depending on the state of the job market when you start looking, you should expect to spend at least several months doing your research, preparing your materials, and going through the interviewing process with multiple companies. Even if you are a year or more away from graduation, now is not too early to get started with some of the essential research and planning tasks. If you wait until the last minute, you might miss opportunities and you won't be as prepared as other candidates. Also, don't count on employers to move at a rapid clip through the hiring process or stick to their own deadlines. You need to be the flexible party in this process, and the more time you give yourself, the less stressful it will be.
Think about stepping-stone opportunities. You might not be able to find the opportunity you're looking for right away, and you might need to take a job that doesn't meet all your expectations. Even though such positions aren't necessarily the ideal that you have in mind, view them as opportunities to learn workplace skills, observe effective and ineffective business practices, and fine-tune your sense of how you'd like to spend your career.
Expect to interact with intelligent technology throughout the job-search process. To find the best employees and reduce the demands on their recruiting staffs, many companies now use a range of artificial intelligence (AI) tools to find potential hires, filter applications, interact with candidates, evaluate résumés, and even conduct screening interviews via chat or video. You may receive unsolicited messages from bots or "virtual agents" inviting you to apply for jobs, too. (Make sure these are from legitimate companies before responding.)
Clean up your digital footprint. If there is anything about you online that could harm your job prospects, chances are an employer will find it during the recruiting process. Review all your social media profiles and posts, and consider removing anything that might be worrisome to recruiters (human or AI). Recruiters even have tools that attempt to analyze your personality based on your social media activity, so make sure your public digital presence reflects who you intend to be as a professional.
With this foundation in place, you'll be ready to get busy with your résumé, LinkedIn profile, and the other tasks that will lead you toward success.
All three titles in the Bovée-Thill Business Communication Series offer in-depth advice on the full range of job-search communication, from researching job opportunities to crafting effective LinkedIn profiles. This coverage includes unique perspectives on personal branding, writing "the story of you," and the Build Your Career activities that guide students through the entire process of developing employment-related messaging. (Build Your Career is available in Excellence in Business Communication 13th Edition and Business Communication Today 15th Edition.)
Adapted from Courtland L. Bovée and John V. Thill, Business Communication Today, 15th Edition, 2021, pp. 518–519.

Image: Photo on Visualhunt.com