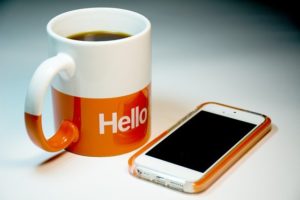 As your students begin the interview process, chances are good that their initial screening interviews and at least subsequent interview will be conducted over the phone. Employers treat telephone interviews as seriously as in-person interviews, so candidates need to be ready to perform effectively in these important exchanges.
Share these fourteen tips with your students to help them prepare and to ease the stress of getting ready for phone interviews:
Gather your support material. Have any materials on hand that will help you answer the questions you are likely to get. This includes your résumé, any correspondence you've had with the employer, your research notes about the company, the job description, and note cards with key message points you'd like to make and questions you'd like to ask. Don't rely on notes on your phone; trying to pull them up during the call will be awkward.
Prepare your space. Arrange a clean and quiet space to be in during the interview. As much as possible, avoid distractions from pets, other people, television, music, and other audio and visual interruptions. Have a glass of water close at hand.
Practice your answers. Call a friend and rehearse your answers to potential questions to make sure you're comfortable saying them over the phone.
Charge your phone. You don't want to run out of power during the call or stop to plug in your charger.
Talk on a landline if possible. If your mobile service isn't clear and reliable, try to arrange to talk on a landline.
Schedule the interview, if possible. Whenever you can, schedule a time when you can be in your prepared space, safe from interruptions.
Dress for a business meeting. You don't need to go full out, but don't wear sweat pants and a T-shirt. Dressing up sends a signal to your mind and body to be attentive and professional.
Answer your phone professionally. If the interviewer will be calling you, answer with "Hi, this is —" to let the person know he or she has reached the right person. While your job search is active, answer every call from an unknown caller as if it's a potential employer.
Maintain good posture. Whether you sit or stand during the interview, good posture will keep you alert and keep your voice strong.
Compensate for the lack of visual nonverbal signals. You can't use facial expressions or hand gestures for emphasis, so make sure your voice is warm, friendly, and dynamic. Smile frequently—it changes the sound of your voice and lifts your mood.
Finish each answer in a definitive way. Don't trail off and leave the interviewer wondering whether you're finished.
Speak clearly. Remember that the interviewer can't see you; your spoken words carry the entire message.
Write down essential information you get during the interview. Don't rely on your memory for important details such as arrangements for a follow-up interview. It's fine to pause and ask, "May I take a moment to write this down?"
End on a positive note. No matter how you think the call went, thank the interviewer for the opportunity and say you look forward to hearing from the company.
All three titles in the Bovée-Thill Business Communication Series offer in-depth advice on the full range of job-search communication, from researching job opportunities to crafting effective LinkedIn profiles. This coverage includes unique perspectives on personal branding, writing "the story of you," and the Build Your Career activities that guide students through the entire process of developing employment-related messaging. (Build Your Career is available in Excellence in Business Communication 13th Edition and Business Communication Today 15th Edition.)
Adapted from Courtland L. Bovée and John V. Thill, Business Communication Today, 15th Edition, 2021, pp. 562–563.
Image: Derek Robinson from Pixabay