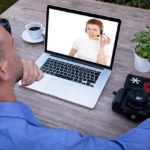 Students should prepare to be interviewed by video as they move through the job search process, and these interviews require some special consideration. Video interviews can be conducted via Skype or similar services, video conferencing systems, or automated interviewing systems in which candidates respond to prerecorded questions.
Most of the advice outlined in Fourteen Tips for Succeeding in Phone Interviews applies to video interviews, and encourage your students to follow these additional tips:
Make sure your interviewing space is clean and uncluttered. Remove anything from the walls behind you and the area around you that doesn't look professional.
Adjust your seating position and room lighting so that your face is clearly lit. As must as possible, adjust the lighting so that light is directed toward you, but not so much that it is glaring. Don't sit in front of a window or other strong light source, which will put your face in shadow and probably cause the autoexposure function in your webcam or mobile device to reduce the light level in the video image.
If you are using a mobile device, don't hold it in your hands. To eliminate shakiness, anchor the device in a desktop tripod or other mechanism to keep it still.
Make sure your video setup is ready to go. If the company asks you to use Skype or another public service, test your connection with a friend beforehand and get comfortable using it. If the company emails a link for a videoconferencing service, make sure you download and install any software that might be required well before the scheduled interview time.
Dress and groom as you would for an in-person interview. Unlike phone interviews, where you do this to boost your mood, with a video call it's essential to look like the sort of person the company wants to hire. Choose solid colors and avoid hues that are too bright or too dark (both of which can throw off the camera's autoexposure).
Maintain frequent "eye contact," which means looking at the camera lens on your device, not at the person's face on your screen. You'll have the natural urge to look at the person's face, but on the other end it will look like you're staring off at an angle. If you're on a computer, move the on-screen window that shows the other person's image as close as you can to the camera lens. This way you can look into the camera while still feeling like you're looking at the interviewer.
Don't fidget or move around too much. This is distracting to the interviewer, and your microphone will pick up any extraneous noise you make.
All three titles in the Bovée-Thill Business Communication Series offer in-depth advice on the full range of job-search communication, from researching job opportunities to crafting effective LinkedIn profiles. This coverage includes unique perspectives on personal branding, writing "the story of you," and the Build Your Career activities that guide students through the entire process of developing employment-related messaging. (Build Your Career is available in Excellence in Business Communication 13th Edition and Business Communication Today 15th Edition.)
Adapted from Courtland L. Bovée and John V. Thill, Business Communication Today, 15th Edition, 2021, pp. 562–563.